On 15th of June, Ha Long Shipbuilding Company holds a launching ceremony of FISHING TRAWLER SBA01 with the name "Atlantic titan" and contract signing ceremony of 03 scallopers SBA 05, 06, 07 for Canadian.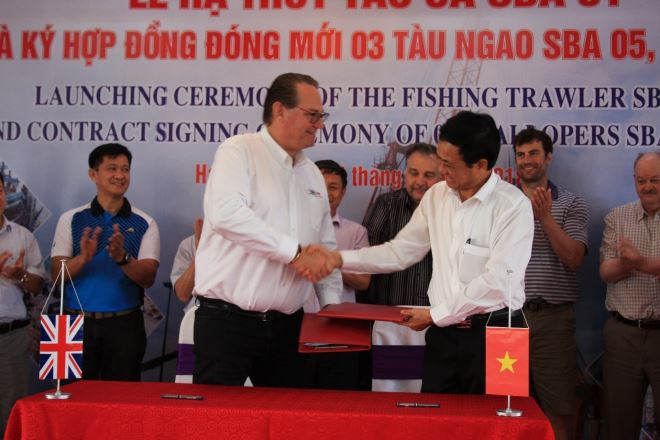 Halong shipbuilding company and SBA's representative witnessed the contract signing ceremony of 03 scallopers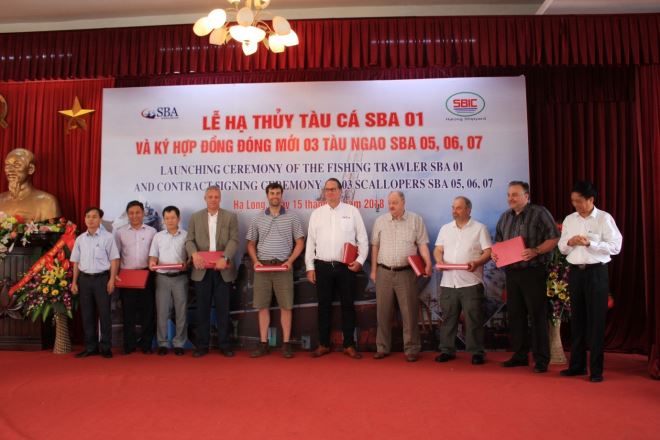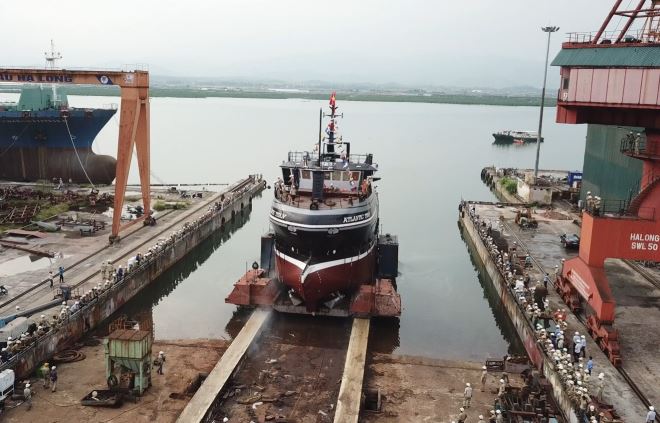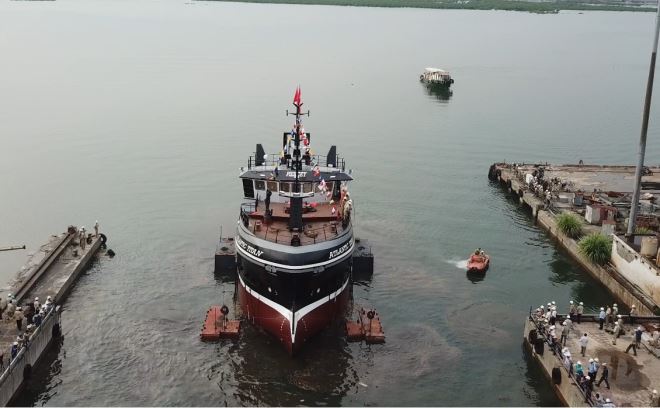 SBA 01 Fishing Trawler "Atlantic Titan" be launched
FISHING TRAWLER is a medium-sized vessel which belongs to the latest generation under the law of Canada and international seafood exploitation. It's length is 29.1m, breadth is 10.3m, depth is 5.0m, a main engine, a bow thruster and it is equipped with special equipment for fishing, the fishes selected and classified system, fish preserved compartment according to the highest international standards. This vessel can be exploited in the harshest climates in the northern sea of Canada.
In recent years, domestic and international shipbuilding markets have many difficulties but with the great effort of Ha Long Shipbuilding Company and SHIPBUILDING ASIA LTD (SBA) in promotion and marketting. Nowadays, Halong shipbuilding company's reputation in shipbuilding and repairing to be known in Canada - North America, Europe and Philippine markets. We have signed contracts and delivery many projects as 5 stars cruise vessels, 3.500T- 18.500 T oil tankers, barge, 22.000 DWT bulk carrier, pontoon ...
We intend in July and August of 2018, the contracts of 03 vessels for British clients, 03 service vessels "38 m" for Cook Industries company, 03m vessels "36 m" for Canadian clients, 10 small dredgers, 8600 T bulk carrier, cement carrier, 120 m barge, 3212 tug boat for Gana and especially the 155m passenger carriers for Turkish will be signed by Halong shipbuilding company and SHIPBUILDING ASIA LTD (SBA) . We hope with many big projects will bring the high income for our company employees in the next time also.
Ha Long Shipbuilding Company