NEWS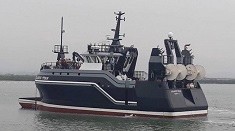 Ninety Foot Crab and Demersal Fish Trawler Delivered
12 Jun 2019, 15:56
Shipbuilding Asia and Macduff Ship Design are pleased to announce the completion and handover of a new 90 foot fishing vessel for the Piercy family of Newfoundland Canada. The vessel Atlantic Titan, built in Vietnam by Shipbuilding Asia and designed and kitted by Macduff Ship Design, has the capability to fish for crab and to trawl for demersal fish.
Keel laying ceremony the fish harvest vessel SBA05 in Halong shipyard.
23 Mar 2019, 09:35
This is a specialized vessel for transporting fish from the aquaculture area in the ocean to the processing place for finished fish
The keel laying ceremony of fishing trawler
26 Sep 2017, 07:56
On 31st of August, Ha Long Shipbuilding Company held a keel laying ceremony of FISHING TRAWLER which be built for ShipBuilding Asia LTD (Canada). This is a generation of offshore fishing vessel in Canada's Northern sea and be equipped with modern technology under the international marine fishing law.
The first Platform Supply Vessel launched in Vietnam
01 Apr 2017, 15:15
At 17:00 on 10/5/2016, Ha Long Shipbuilding Company, a member of the Shipbuilding Industry Corporation (SBIC), launched the PSV 3300 No.1 Platform Supply Vessel for the Damen Group (the Netherlands). Attended and also the godmother for the ship is Ms. Catharina Trooster - Dutch Ambassador to Vietnam.
Ha Long Shipyard delivered RoRo 5612 No.01 to Royal Bahamas DefenceForce.
29 Oct 2015, 16:14
On 21st October, Ha Long Shipyard and Damen Group delivered Ro Ro 5612 No.01 to Royal Bahamas Defence Force. The vessel is designed and equipped by the Dutch Damen Group under the supervision of the French register BV.
Discover fishery control 782 modern vessels in Vietnam
23 Sep 2014, 07:42
- Recently, the fishery boat 2nd largest in Southeast Asia in Vietnam bearing number KN 782 was a limited liability company member (Limited) shipbuilding Ha Long (Quang Ninh) table fisheries inspection force assigned to Vietnam.
Establishment of the Shipbuilding Industry Corporation (SBIC)
03 May 2012, 11:28
On 31st October 2013 the Ministry of Transport announced the establishment of the Shipbuilding Industry Corporation (SBIC). The corporation will take charge of restructuring of the Vinashin and its members. Vinashin ceases operation from the day SBIC is granted business registration certificate.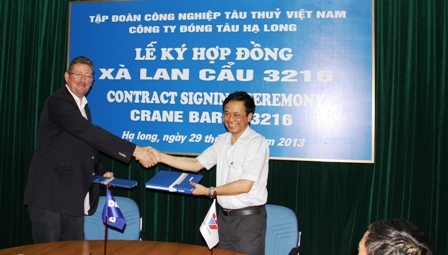 Ha Long shipyard builds a crane barge for Damen Group
02 Jul 2013, 21:27
On 29th October 2013 Ha Long shipyard signed a contract to build a crane barge type 3216 for Damen Shipyards Group Gorinchem- Holland.
A keel – laying of new 4 ATD tugs at Ha Long shipyard
08 Feb 2012, 08:32
On 30th August 2013, a keel – laying of new 4 ATD tugs type ATD 2412 for export to Damen Group was held by Ha Long shipyard in Quang Ninh province. The vessels are built according to design and supervision of DAMEN Group (Netherlands).
Vinashin's Headquarter gets ISO 9001-2008 Certificate
07 Feb 2012, 21:26
On 23 December, 2008, the 10th anniversary of Seamap's foundation was celebrated solemnly at Cau Giay hotel in Hanoi.
Impressions from made-in-Vietnam ships
07 Feb 2012, 13:17
The Vietnamese shipbuilding sector built a floating storage and offloading (FSO) ship with a capacity of 150,000 tons mid-April this year and delivered a "ro-ro" to an Israeli firm. The vessel named Victory Leader can transport 4,900 cars and is the first of its kind, in the country.