After several months of cooperation, negotiation, planning, on the morning of 31/8/2017, Halong Shipbuilding Company held a keel laying ceremony of Fishing Trawler which be built for ShipBuilding Asia LTD (Canada). This is a generation of offshore fishing vessels in the North Sea of Canada and be equipped with modern technology under the international marine fishing law.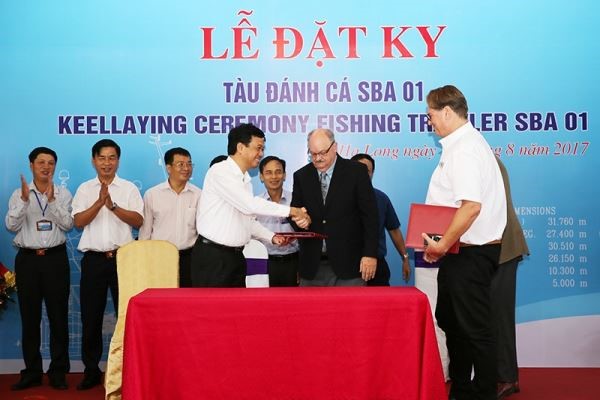 Representatives of Ha Long Shipbuilding Company handed over the building contract of Fishing Trawler for ShipBuilding Asia LTD.
FISHING TRAWLER is a vessel with the length of 29.1m, width of 10.3m, height of 5.0m; it combines of a main engine, a bow thruster. The vessel is also equipped with special equipment for fishing, the fish select and classified system, fish preserved compartment according to the highest international standards that can operate in harsh climatic areas.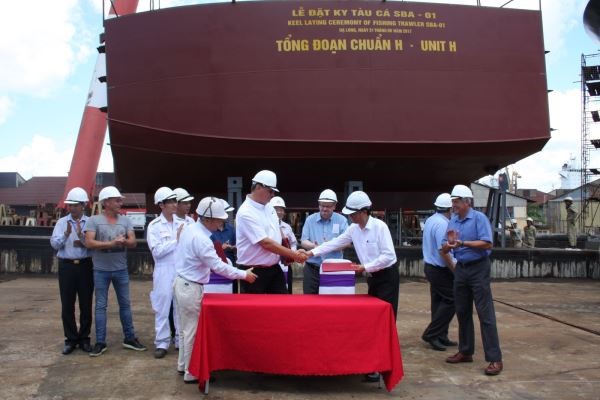 The parties sign the
keel laying protocol of
Fishing Trawler
As planned, the Fishing Trawler will be completed and delivered by Halong shipbuilding Company in April 2018. After the ceremony, the company will focus on accelerating the construction progress of the next blocks with highly quality in accordance with the design and registration standards. This is also the first export contract of Halong shipbuilding Company with Canadian partner.