In the afternoon of March 19, 2019, in Quang Ninh, Ha Long Shipbuilding Company organized the construction of a new harvesting vessel (SBA05) for a Canadian owner. Attending the signing ceremony were representatives of Canadian ship owners, representatives of SBA partner companies; Representatives of vendors and suppliers of equipment and materials; Representative of BV (Bureau Veritas).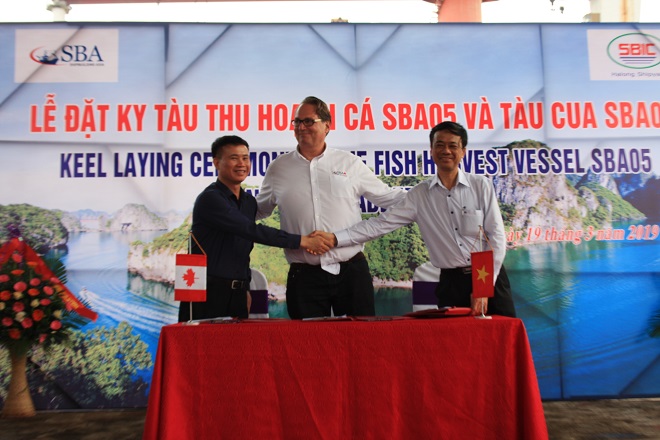 Representatives of the parties signed the minutes of ordering the fish harvesting vessel - SBA05
This is a specialized vessel for transporting fish from the aquaculture area in the ocean to the processing place for finished fish. Ship has:
Length 37.00 m
Length between perpendiculars 34.3 m
Breadth Mld 11.5 m
Draught 3.40 m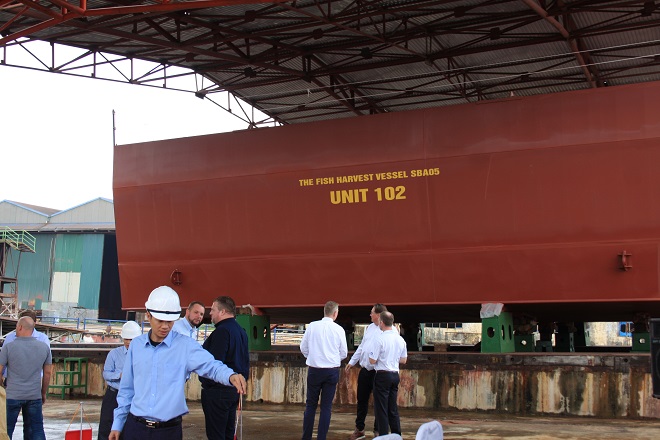 The ship is equipped with: 01 Main machine: 735kw-1000HP, IMO Tier III compliant; 02 Generators: 300Kw- 408HP; There is a central control room for the engine room; equipped with 2 bowthruster (
Bow Thruster – Hydromaster Series 3, 900mm propeller diameter rated 150kW @ 2200RPM; Stern Thruster – Hydromaster Series 3, 820mm propeller diameter rated 150kW @ 2200RPM
).
The highlight of the vessel is the pipe system to suck fish from the aquaculture area onto the vessel on the vessel to ensure that the fish when transported are not particularly vulnerable. It is also quipped with a cooling system to keep the fish alive as in natural environment.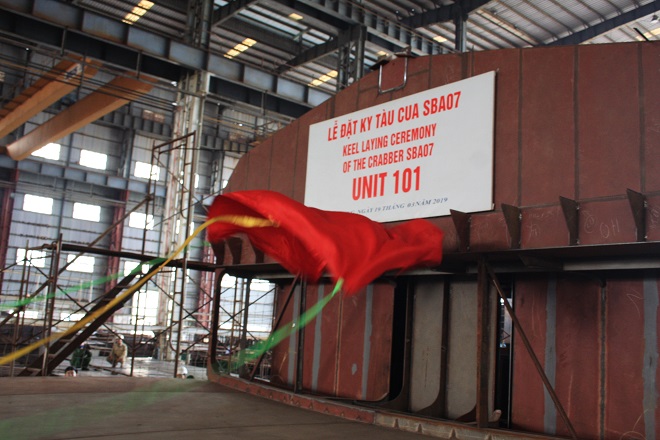 At the same time with the keel laying of the fishing harvest vessel (SBA05), Ha Long Shipbuilding Company continues the keel laying of the 15m crab vessel (SBA07) and carried out the construction of three 19m crab vessel (SBA02; SBA03; SBA06 ) and 01 15m crab vessel (SBA04). A total of 6 SBA (ShipBuilding Asia) products are being rushed by Ha Long Shipbuilding Company to delivery in the second half of 2019.
Two weeks ago, Ha Long shipbuiding company completed and delivery a special fishing boat to Canadian owners and received very good feedback from the ship owner.
With the current new products of Ha Long Shipbuilding Company, it has created jobs and stable income for over 1,000 employees working at the Company with an average salary of 7 million to 8 million VND / person / month. .
HALONG SHIPYARD